Jun11
How To Make Boutique Style Hair Bows
I have found a new love in making these quick and inexpensive boutique or reverse loop style hair bows! I'm finding myself making all sorts of colors to go with my daughter's closet, as you can see above. Once you get the hang of things, they're very easy to put together; but allow yourself some time to practice…it took quite a few 'tries' before I had my loops down.
For a 4″ bow, you will need a 30″- 32″ piece of 1.5″ grosgrain ribbon, white or coordinating colored thread, a good pair of fabric scissors, a smaller piece of 3/8″ or 5/8″ coordinating ribbon and a hair clip.
Start by folding your ribbon in half and then in half again; make sure to create a nice crease at each fold.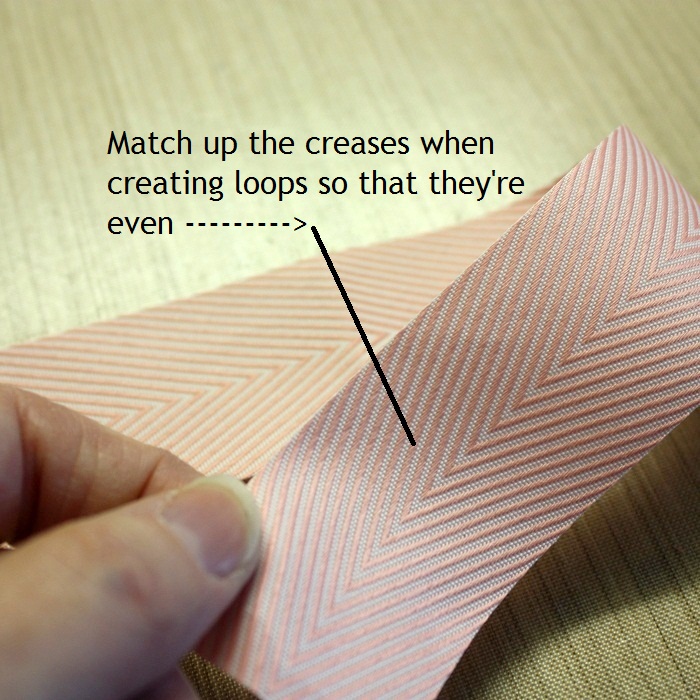 Now lay your ribbon out onto a flat surface and begin with the end of ribbon to your right. Fold the ribbon so that the first crease matches up with the next crease in the length of ribbon.
Make the loop so that the tail of the ribbon is pointing downward at a 90 degree angle.
Now you will be working from the other end of the ribbon. Make your next loop by bringing the next crease over and matching it to the center as shown above.
Your first two loops should now look as above. Note how the tails are positioned.
For the third loop, tuck the ribbon behind the first tail so that the next-to-the-last crease is at the center of the bow.
For the final loop, bring the tail (now facing downward left) up with the last crease matching up with the center of the bow.
Make any adjustments that are needed to your loops so that they're fairly even. Turn the entire bow in your hand so that the bottom left tail is now facing upward and to the right. Fold in at the center of the ribbon, facing you. Next, fold down on both sides of the first fold. Wrap the center with a generous piece of thread, embroidery floss or thin wire.
Next, using a hot glue gun or fabric glue, adhere the desired clip or barrette to the back (center) of the bow. Allow to dry. For added security, you may wish to wrap another length of thread around the clip and center of the bow.
Lastly, you will want to cover the center of your bow with a piece of matching 3/8″ or 5/8″ ribbon that has been folded in half. Open the clip and begin wrapping the piece of ribbon around. Secure at both ends with a glue gun or fabric glue. Be sure to wrap the ribbon tightly.
You've now completed your first boutique style hair bow!
Other Supplies Used:
White Thread
Fabric Scissors
Fabric Glue
Alligator Clip